Bought a Single Family home in 2016

5 Stars
Kathryn was recommended to me by two friend who had great experiences with her. As a first time homebuyer I was nervous and Kathryn made the whole process so smooth and stressfree! She was very patient and understanding with me and I now am living in my dream home! Thank you!



Happy buyer/seller in Downtown Orlando
5 Stars
We searched for a new home and sold our home with Kathryn. For selling a home she is amazing at staging, suggestions for eye appeal, and pics/video to market your home. She encouraged us through the process and we sold our home for more than expected and had an offer in less than 2 weeks, even with the challenge of selling a 3 bedroom home with only one full bath. For buying a home, she was so patient and knowledgeable with us. I know we are particular buyers because my husband and I each had ideas of what we desired in a home. We finally found the perfect one and Kathryn helped us negotiate to purchase it at a fair market value in our price range. I can't stress how much she knows about real estate, home pricing, and the Orlando area. I highly recommend Kathryn and her team for your real estate needs! They work extremely well together and communication is on point!


Happy seller in Lake Underhill
5 stars

Kathryn was the consummate professional and added value through every step of the sale process. She had good insight regarding pricing and expectations for time on market to sell. She made excellent suggestions regarding updates to shorten the time on market to sell and maximize the sales price, given the budget constraints that we were comfortable with. Her marketing plan was well thought out and executed timely with excellent results. She made several suggestions for resources to assist with preparing the house for sale and they were very good. We would highly recommend Kathryn for anyone that is looking to sell their home in her market area. You will not be disappointed!


Happy buyer/seller in Downtown Orlando

Bought a Single Family home in 2016

5 Stars
As a veteran and a first time home buyer, Kathyrn was extremely helpful. She knows this industry inside and out and was prepared to answer all my questions promptly. If you are in the market, I highly recommend you use her services.


Happy buyer/seller in Downtown Orlando

Bought and sold a Single Family home in 2016

5 Stars
Kathryn has been my realtor for three of my properties and I could not be anymore satisfied. She is attentive to EVERY detail and gives her honest opinion when it comes time to sell your home, which is refreshing. If you are selling your home with Kathryn, I would advise you to PLEASE listen to
her. She definitely does her research. Her knowledge and experience is second to none. If you are buying a home with Kathryn, she does an amazing job of finding properties in the area you are interested in, and finding the type of home you are looking for. She makes to process surprisingly easy. There is no one else I would use as my realtor. I have recommended her to several friends who purchased a home and they all have felt the same way. She is the best!

Happy seller in Lake Underhill

I highly recommend Kathryn for the sale of your home in her market area. She is a very capable and knowledgeable real estate professional. She will exceed your expectations.

Happy seller in Winter Park
5 Stars

Kathryn was great. She was very patient with our first-time seller questions and helped make the process as smooth as possible. We respected her advice and honest opinions, and relied on her wealth of knowledge to make decisions. We would definitely use Kathryn's services again to buy or sell a home, and would highly recommend her.

Happy home buyer in Downtown Orlando
5 Stars

I had a very unique situation pop-up during the home-buying process related to securing a mortgage. Kathryn was simply amazing in managing the seller and the situation as a whole to keep everything on-track despite delays which we couldn't avoid. In the end, the seller was happy and I was happy in my new place! I would use Kathryn as my realtor in the future in a heartbeat. Can't thank her enough!

Scott and Katie
5 Stars
"Kathryn was amazing! This was our first home purchase and she could not have made it any easier. We purchased a bank owned home and Kathryn kept us on track the whole time. She was very honest & knowledgeable about the entire process and was quick to reply to our questions. We are so excited to be in our new home and could not have done it without her!"


Sold a Single Family home in 2016 for approximately $250K in Lake Como, Orlando, FL.
I found Kathryn because of her Lake Como Newsletter. I loved what appeared to be her in depth knowledge in my neighborhood. After meeting with her I knew she was knowledgeable about my area as well as others and she was TOP NOTCH. From the beginning I trusted her and let her absorb any and all stress which was great! The process went smoothly and she and her team took care of everything. If I ever sell or buy a house in Orlando again Kathryn will be my agent

Happy Customer in Lake Como
She is a rock star! Sold our house in 6 days with 10 offers above asking. She is and was very quick to respond and always willing to make suggestions.

Kevin & Amanda May - Helped me sell and buy my home
Kathryn & Team - If we could give you all the stars in the heavens, we would! You created one of the most stressful experiences in someone's life into a pleasurable on. You deserve more praise and recognition than I would ever be able to express. I hope you know your sincere gratitude for getting to know someone as special as you! I pray that you are in this business if ever we need you again!

Happy Seller in Lake Sue Park
Kathryn was delightful and very easy to work with. Selling a home is a very personal matter and she was always honest, professional, and considerate especially when discussing the pros and selling points of marketing our older home. She kept us informed weekly of the progress and process of marketing and selling. We also enjoyed working with her staff- April and Leann. Overall, it was an excellent experience and we are so glad that we asked her to be our agent. Kathryn knows how to sell a home!

John & Rita Buenger - Helped me sell my home
I had no doubt, within minutes of meeting Kathryn, that we had the perfect realtor to sell my vintage home. We were not disappointed. Her assistants were very efficient and helpful. We will hire Kathryn and her team to sell our next home.

Happy Home Buyer in Lake Como
I had only been living in Orlando for a year and was looking to buy a place. My friend Matt had just bought a house had nothing but amazing things to say about his realtor- Kathryn and he was right. She is an expert with the location and after meeting her I felt confident that she was the right realtor for me. She was prompt, knowledgeable and I trusted her completely. I highly recommend her!

Happy Seller in Lake Como
Kathryn did a walk thru of our house and made suggestions on areas to improve to get a better price. The changes were made and she gave us a listing price. We wanted to get more so we started a bit higher. After several months the house sold for the price she originally stated.
She is very professional in working with you. She keeps you informed with weekly updates on how things are going. She answers questions quickly and acts on any problem you may have.
Kathryn is a very energetic person and has excellent knowledge on selling homes. I got her name from someone in the area that had her as their selling agent. Recommedations are the best way to help choose an agent. I will definitely pass her name along to someone who is looking to buy or sell.

Happy Home Buyer in Winter Park
Kathryn and her team were always there when we needed them and made our first home purchase as a couple as stress-free as possible.

Jessica Ruthardt - Helped me buy and sell my home
Kathryn and her team once again exceeded our expectations! Our house was listed and under contract in a matter of days... And with multiple offers. She helped us then find the perfect home for our growing family! She truly is an expert in her field.

Santo Cannone - Helped me sell my home.
We were involved in a very difficult transaction that almost fell apart several times. Kathryn was relentless in making sure all options for solving problems were identified and considered. She did a great job keeping us apprised of issues and solutions throughout the process. She gets my highest recommendation.

Patty Long - Helped me sell my homes
If you a looking for a true professional to sell your home you have found the best real estate agent in Kathryn Stelljes. Kathryn sold two homes for me and it was a great pleasure to work with her! Kathryn's knowledge and expertise were invaluable to me and I highly recommend her.

Kathleen Carmody - Helped me buy my home
I was on my third realtor after disappointing results with the first two. I was pleasantly surprised at how helpful and honest Kathryn was. She was excellent from start to finish and I would recommend her to anyone.

Wendy Jo Moyer - Helped me sell my home
Kathryn is a true professional. She knows real estate inside and out, is efficient, organized and just a pleasure to work with. I've now purchased a short sale house (a four-month process) and sold a condo (that took six hours for an offer!) with Kathryn, and both times she was persistent at pushing along the process. She always keeps you updated on the progress, and now she even has a fabulous website that tells you the timeline for exactly what tactics her team will be completing for six months. And, once a step is completed, you can see it marked off the list. Also, I appreciated the amazing photos she took of my property for MLS. Top notch!

Ann Patton - Helped me buy my home
Wow! I cannot say enough good things about the service we received from Kathryn and her buyer's agent Catherine. We had a difficult transaction from out of state, which meant we had to buy a home without actually seeing it and, to make matters more challenging, the home had to be able to accommodate disabilities. And we were working with a modest budget. This team was helpful at every turn, anticipating what we might need even if we didn't know what that was. In truth, we felt that we were their ONLY clients. They treated us like family, like the most important people in the world. We quickly found the right house and, with their help, will be moving in soon. And even after the sale was done, they continue to help us find the best services and other things we need. I cannot give a high enough recommendation for this splendid team of professionals.

Briana Dunning - Helped me sell my home
HANDS DOWN THE BEST SERVICE I HAVE EVER GOTTEN!! Kathryn knows how to do it right! I have bought and sold more than one property over the years and have experience with many realtors. When I first met with Kathryn about putting my home on the market she had me at "Full Market Analysis", you see most other realtors just pull "comps" which compare the price of your home to others that recently sold in the neighborhood, but what Kathryn does is assess your home as an appraiser would, giving you the truest pricing analysis possible. She helped me price my home correctly so it sold WITHOUT EVEN HAVING TO LIST. That's right, one showing, no listing, no stress. From beginning to end I barely ever had to initiate a phone call or email and if I did it's because she was considering the fact that I live on the West coast and am 3 hours behind. She is VERY thorough and met with every worker that I couldn't meet because I live out of town. She even met with the appraiser to make sure he had all the paperwork and history on the home. THAT IS VERY RARE! She is smart because she works with a team, so you know she most likely is dealing with a lot during a day but NEVER seemed stressed or like she was rushed for time. I always knew what was going on and she made me feel like her ONLY client! I HIGHLY RECOMMEND HER IF YOU ARE SELLING FROM OUT OF TOWN! I will trust her with all my future real estate needs and can't say enough good things about her. Yay Kathryn you are the best! :))

Peter Simon - Helped me buy my home
Kathryn and her team were very helpful in working for getting me the condo I wanted. I was a first time home buyer and they were very patient, yet also very clear on all the steps that needed to get done. I would recommend their team to anyone.

Meaghan Santos - Helped me buy my home
Kathryn, you and your team were absolutely amazing and we will be referring you to all our friends and family. Thank you for being so attentive!

Mindy Colon - Helped me sell my home
Kathryn was a huge help in selling our condo, and FAST! We couldn't have asked for a more "on the ball" realtor. It was such a pleasure to work with her, as well as her entire team throughout the process. She made sure that my husband and I were well informed every step of the way, and really made the process effortless for us. We will definitely recommend her to family and friends in the future!

Larry Ochab - Helped me sell my home
Kathryn has help in selling two of my homes here in Orlando and she was very professional, knowledgeable, and responsive to my needs. I will not hesitate to refer Kathryn to any of my family or friends for her professional advise!

Delviaris.Leon- Helped me buy and sell my home
Kathryn and her team were amazing. We sold and purchased a new home and if it wasn't for her and her team specially, Catherine the entire process would have been a nightmare. They made everything run smoothly and even helped ease our stress. Kathryn was in charge of selling our home while Catherine helped us find our new home. With their help we were able to close both homes the same day! I have never heard of any closing go as smooth as ours did. We definitely owe this to their attention to detail and professionalism. I definitely recommend Kathryn and her team for any realty need you may have.

Jeff Benavides- Helped me buy a home
Kathryn and her team were awesome to work with! All very personable and professional as well as so accessible for busy people like us! We appreciated how organized they were making the home buying process so easy.

Minard Family

This Team was extremely helpful, timely with information and offered pertinent referrals and information needed to buy and renovate a house. Would definitely use them again!
Liz and Aaron

I never told both of you how happy we are in the new house and how grateful we are for your expertise, patience and guidance.
You'll recall we fired our first agent, but we found what we were looking for in your team. You exemplify the partnership we needed to have the confidence to close on our first home.
Darrell Clayman

5 Star Service




Evan Dobkin
My wife and I bought our first home with Kathryn through a friend's referral. She did a phenomenal job guiding us through the process and linking us up with other professionals who duplicated her high level of customer care. If you're a detail oriented home buyer and want to go over every dollar and every facet of the house, go with Kathryn.

Kristin
Kathryn (and her lovely team) worked with my husband and me to find and buy the home of our dreams. She was responsive, honest, kind, savvy and insightful, and in the end, the home we chose was one that she suggested we see, based on our wish list. We had previously skipped right past it on Trulia, but the moment we walked in the door, we knew we were home. So not only was Kathryn's sense of us (and what we wanted) dead-on, but once we decided to purchase the home, she was a wonderful advocate for us in terms of getting a fair purchase price, navigating through a few small problems, and getting us to a quick close. We'll be selling our condo soon and will work with her again in a heartbeat. My husband and I would highly recommend her!

Frances Norris

A first class team who made the purchase of our new home as stress-free as possible! 5 star service

James T. Wilson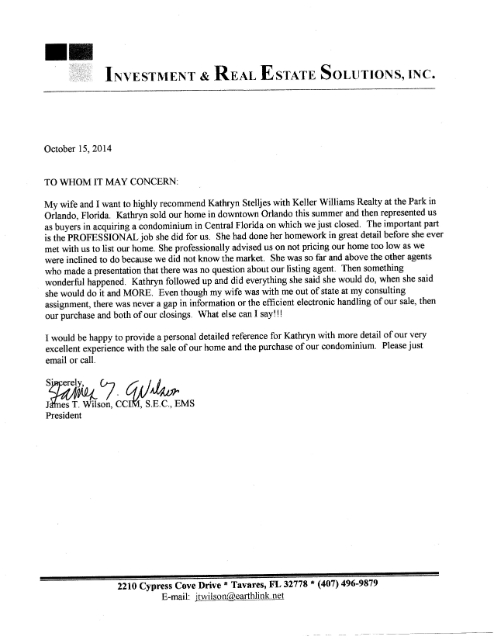 The Havlir Family
We would highly recommend Kathryn as our agent. She assisted us in relocating from out of state, and was very patient in showing us every proprety that fit out criteria.


Sold 722 Stetson St, Orlando, FL 32804
Working with Kathryn on finding my first home was beyond a pleasure. She has a diverse and current working knowledge of the downtown Orlando area, and works hard to pre-screen all of the offerings she sends your way as to not waste time on properties that don't fit what you are specifically looking for.Once we found the home we wanted, Kathryn was extremely helpful in finalizing the contracts and working with the closing agent on last minute details. No question, task, or request was to big or too small for Kathryn to spend the time to find out the right answer quickly. I couldn't be happier with the end result or the service provided, and I would gladly recommend Kathryn to my friends and family in the future.


Frances Norris & Jim Wilson
5 Stars
I can not say enough great things about Kathryn. We are first time home buyers and the process seemed daunting. Kathryn made it a smooth process from the beginning. She had us fill out a questionnaire about our desires in our new home which really helped us narrow our focus. Then she went through a map with us to find the specific areas we wanted to look in. After the first meeting, it really felt like Kathryn knew what we were looking for. From there she had a website that she pus listings on fitting our search criteria. This was extremely helpful since we are busy professionals and it limited the run around time spent visiting properties. She also used online document signing which again made things quick and easy when placing offers. Kathryn even made time on Sunday afternoons to meet with us to look at homes, once again this was great for us given our busy jobs. Once we had an offer accepted, she made sure we kept up with deadlines and gave us great advice for choosing an inspector. If we hit any hiccups, Kathryn quickly dealt with them. She always answered our many emails in a timely manner. She made sure that the seller filled all their obligations as to repairs agreed on and made sure we had the proper documentation from the seller. Closing day was smooth and thanks to Kathryn and our bank coordinating, it only took 45 minutes! Even after closing, she has been happy to help us and answer questions. We were so blessed to have a friend recommend Kathryn. She was amazing!
---
Kathryn Stelljes helped us buy our first home. We could not have asked for better. At every step, she was there with knowledge, patience and professional advice. She was our advocate in every sense of the word. When there was a question or concern, she and her team were responsive and friendly. It was evident that her passion is helping you find a place to make your home. We will be recommending her to anyone looking in the Central Florida area and we plan on working with her again in the future.
Hank Wilson Currently working together
Kathryn is a true expert in the field of real estate. When going through a transaction as complicated as one in real estate you want someone who will walk you through every step of the way and she is that REALTOR. She is also willing to share her wealth of knowledge with the community which is a true sign of a willingness to help people achieve their dreams. When considering agents to represent you, make her your first choice!
Tue, Mar 18, 2014
---
My line of work is very customer service driven, I have very high standards and Kathryn quickly exceeded them! I was so excited to buy my first home, but I was also terrified! I knew I wanted to live in the downtown area but had no idea what I was looking for, or what I needed as a first time buyer and Kathryn really helped me figure all of that out and put me at ease. By spending a little time with me and asking me some simple questions she quickly figured out what my style was and what areas would suit me best. She found me a home that I love in the downtown area, and now with our expanding family we'll be house hunting again in the near future, with Kathryn of course!

Throughout the entire process of selling our house, Kathryn was extremely professional and always seemed to have our best interest in mind. She was knowledgable and always responded to my calls and questions in a timely manner along the way. Kathryn gave us the personal attention needed to get the job done. I would definitely use her as my realtor again.